London: our school trip
Monday, 24th May 2016-Friday 27th May 2016.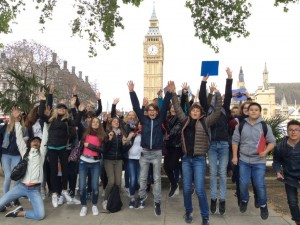 Our favorite day: pupils' testimony
Our favorite day was on Thursday, 26th May. At 10 :00am we arrived at the Natural History Museum.
In the museum we had an amazing activity in groups about fossils, birds and skeletons. After the museum we walked to join Hyde Park where Ophélie and Nicolas made an oral presentation about Lady Diana. Then, we ate in the park, we sat on the lawn for one hour. During this moment everyone played some games. After this, we went shopping on Oxford Street for three hours. We went to Primark, Bershka, Hollister and Urban Outfiters. After the shopping we met our group at Picadilly Circus. There we went to the M&M's world shop together.
We loved shopping and the atmosphere of London.
Lily, Maud, Ophélie & Lucile – 4ème
Our favorite day was on the 25th of May. The Coach dropped us near the Thames. We walked along the river to go to the Shakespeare Globe theater.
Later we went to the Lord's Cricket Ground. We had a cricket practice and ate our sandwiches looking at the pitch. After that we were lucky enough to watch a cricket game from the journalists' offices. Then we walked to Primrose Hill, where we had a great view of London. We had a great time and learnt interesting things.
Louis & Gautier – 4ème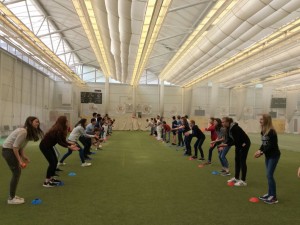 Ringeisen-Gymnasium
der St. Josefskongregation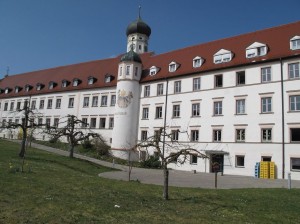 Our partner school in Ursberg, Germany.
Pupils' testimony

In "5ème bi" we are 28 pupils: 14 girls and 14 boys. From Saturday, 2nd April 2016 till Friday, 8th of April 2016 we were in Ursberg, Germany.  In Ursberg, each pupil slept in a different family, at their penfriend's family. Everyday we did some activities, except on Wednesday because we went to school with the Germans.
My name is Léa EDEL. I am in 5ème1.
On Saturday, I stayed with my penfriend and we walked around the neighbourhood.
On Sunday, I went with Bahia and Flora, two classmates, to the Skyline Park, an amusement park. It was brilliant! There were a lot of rides and almost no queuing.
On Monday we spent our day in Ursberg, we visited the centre for disabled persons.
On Tuesday we went to the Linderhof Castle and to Garmisch ski jumping hill. We rode on a summer downhill Toboggan.
On Wednesday, my penfriend had a dance tournament. I watched her.
On Thursday we went to the Allianz Arena and then the BMW museum.
On Friday, on our way back to France we did a guided tour in Ulm.
My name is Alice Mallet. I am also in 5ème 1.
My favourite day
On Sunday, 3rd April 2016
I really liked the Sunday spent with my exchange partner.
The day began with the strangest breakfast I ever had: sausages with sweet mustard and apple-flavoured tea! It was delicious!
After breakfast we drove to an amusement park called "Skyline Park" in a customized sport car. At the park we met friends and had a wonderful day.
My favourite rides were "Sky jet", "Wild Water Run" and "Sky Circle". The first one, "Sky jet" was scary at first but then a lot of fun because it shook me up and down. The second one was the funniest since we got wet. The third and final ride gave me the impression that I was flying. I should say that I only went on this terrifying ride after my friends convinced me to do so. At the top, we had the best view!
Back at home, we did a lot of things: we played billiards inside and soccer outdoors. Although I am a good soccer player, I am not so good at billiards. In the evening, after dinner, we watched a game on TV and went to bed. It was a long and exciting day. I liked it very much.
My name is Thomas STEFFEN. I am in 5ème 2.
On Thursday, 7th April 2016
Our favourite day was on Thursday. We went to Munich and visited the Allianz Arena and visited the BMW Museum. Our penfriends were with us.  In the morning, as each morning, we woke up very early, at 5am! we disliked getting up so early. With our penfriends we took the bus.
In the morning we visited the Allianz Arena: it's the best football stadium in Germany. It's very big and modern! We saw the cloakroom. We didn't see any players. At the end, some of us bought a jersey in the Bayern fan-shop.
For lunch we ate pizzas. We liked them! At 3pm we visited the BMW museum. I saw beautiful cars and motorcycles.  Our favourite car was the BMW i8. We were happy to sit in motorcycles.
Later we went back to the bus to go back to our host families.
Written by Younes Saïdi, Théo Schneider, Lucien Mazenot, Dorian Ott & Tom Schubnel – 5ème 1 & 5ème 2
On Tuesday, 5th April 2016
This morning, Tuesday the fifth of April two thousand and sixteen we went to school with our penfriends. We met our classmates and took the bus. The bus trip lasted 2 hours; the ride was long but fun. We walked to the Linderhof Castle. The walk wasn't long. We visited the Castle, which was small but rich with gold decorations. In the garden, there were two fountains. The first one was the smallest. We ate at a skate park and we played on summer slides. Then we went to the Olympic springboard, Garmisch. When we arrived we were scared because it was about one thousand meters high. When we were at the top of the springboard the scenery was extremely beautiful. After that we took the bus to join our host family. For dinner we ate bread with cheese and we watched TV. We went to bed at 9pm.
Flora Ribeiro, Chloé Edel, Charline Guihodo & Jeanne IOOSS – 5ème 1 & 5ème 2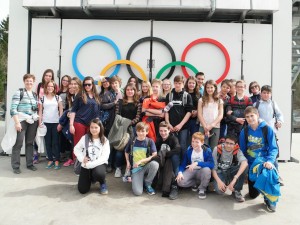 Find…
… a difference between a German house and a French house
Houses in Germany are bigger.
 … a difference between a German meal and a French meal
Germans eat more sausages than the French.
Germans eat more sandwiches than the French.
 … 3 adjectives to describe a German classroom
big – luminous – less modern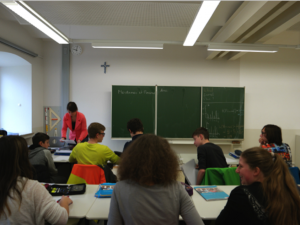 … 3 adjectives to describe a lesson
noisy – difficult – interesting
 … 3 adjectives to describe their school
cool – beautiful – big
… 3 adjectives to describe your penfriend
short – nice – humorous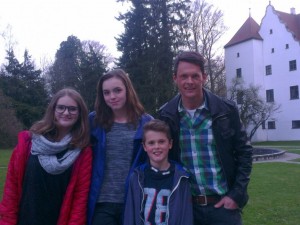 Our trip to the Tomi Ungerer Museum in Strasbourg to see
the Thomas Nast exhibition on Thursday, 2nd June 2016
 On the second of June, we went to Strasbourg to visit the Tomi Ungerer Museum. We left school at 8:30am.
When we arrived, it was too early to visit the museum so we chose to see the cathedral first. There, we saw the astrological clock.
We came back to the museum 20 minutes later. The visit began at 10:30 am. We went upstairs. The guide gave us pens and notebooks to write some information and to sketch some illustrations. That was fun. The guide began by showing us various posters made by Tomi Ungerer. There were drawings against Segregation (Black power, White power) and particularly against the war in Vietnam (Eat). Tomi Ungerer also made ads for the New York Times.
 Then, the guide explained Thomas Nast's life. He was a famous illustrator. She said he was born in Germany in 1840. He was a satirical drawer for Harper's Weekly. He helped popularize famous characters such as Uncle Sam, Columbia (they represent the USA), Santa Claus, the democratic donkey and the republican elephant. The guide spoke about William Tweed, called "The Boss", a politician who stole money. Thomas Nast did a lot of caricatures of William Tweed. He was arrested in Spain thanks to his illustrations. It was very interesting, we learnt a lot. The illustrations were beautiful and really clever. We saw that the two artists had different styles. The visit ended at 12:00. We ate lunch outside and then took the bus to go back to school.
 3ème trilingue – 2015/2016
Eclipse Day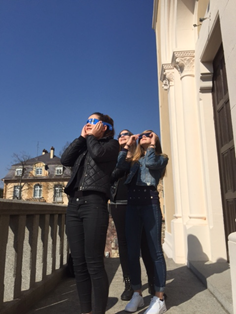 The Science teachers organised specific workshops to enjoy this year's eclipse.
Nicolas Micheli, a pupil in 4ème1 explains this special morning.                    
First it was strange for me because I had never seen an eclipse. We were in the classroom and at 9:37am we went to another classroom. Mrs Charbonnier, a science teacher explained to us what an eclipse is (it's when the moon, the sun and our planet are aligned). After, we went to another workshop led by Mrs Villemont. With her we learned about the different safety rules. She told us not to use glasses from 1999 because it is dangerous for our eyes. At 10:09am I saw an eclipse for the first time in my life. I watched it with glasses and it was unbelievable. At 10:25 we left school and we wanted to skateboard and ride our BMX. Unfortunately, it was impossible to ride them because there was too much luminosity.
Nicolas Micheli – 4ème 1
---
« Sherlock Holmes » outing ! Pupils' testimonies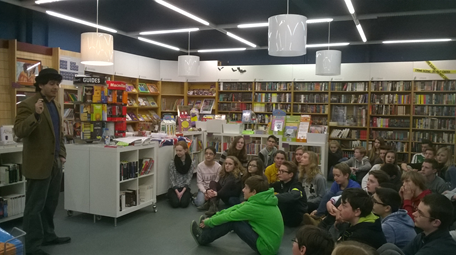 «  We took the bus at 8 :00am in the morning to go to Strasbourg. It was cool. At 9 :30 we arrived at the bookshop, the bookshop lady spoke with us and there was a man, an Englishman. He led the activities. He was funny. We played a lot of games : quizz, Tongue Twisters and so on. When we won, we received Twix bars, they were delicious. I won just one time. The games were about Sherlock Holmes and the book « the Hound of the Baskervilles »
At noon, we had time to eat alone. After we saw a theatre play. The play was an adaptation from « The Hound of the Baskervilles ». There were four actors, three men and a girl. Fortunately I read the book before, otherwise I wouldn't have understood anything.  The actors spoke too fast. »
GAPP Jules 4ème 1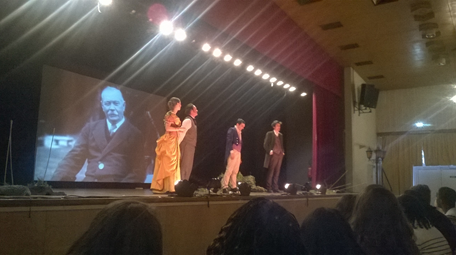 «  On the 30th of January 2015 my class and another one went to a bookshop called « The Bookworm » in Strasbourg. A man coming from London told us about detectives, about Sherlock Holmes. We had a questionnaire about the book « The Hound of the Baskervilles » we studied in class. The theatre play was an adaptation of the book. It was very good. There were four actors. There was a 3D animation. At the end we could ask questions to the actors. »
FREYBURGER Samuel 4ème 1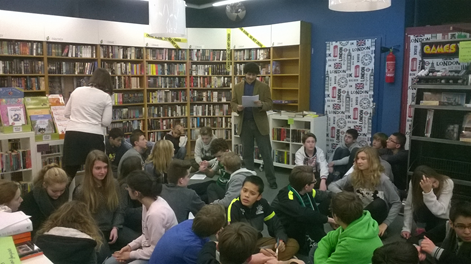 «  We went to Strasbourg by bus to go to a bookshop and to see a theatre play. The play was « The Hound of the Baskervilles ».
At the Bookshop an Englishman led the activities. We had a quizz. We had to ask questions about someone's life.
We ate lunch at « les Halles » a shopping center. Then we went to see the play. The actors were good. »
EHINGER Antoine 4ème 1